---
---
---
---
Ann M. Wills
Legal Assistant / Paralegal
Tel: 314.218.3040, ext. 104

ABOUT
Ann M. Wills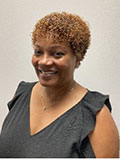 Ann Wills is a transactional paralegal with over 20 years' experience. She primarily focuses on probate court filings and trust administration, as well as corporate work, and the funding of revocable trusts, including real estate transfers.
Ann's daily work includes organizing and maintaining corporations, LLC, FLPs, and other business entities; maintaining annual state filings with Secretary of State offices; maintaining stock records, ledgers and transfers for corporations; drafting funding documents for revocable trusts; preparing deeds transferring residences to revocable trusts and/or LLCs; overseeing and maintaining case files for probate decedent estates and conservatorships; assisting with the preparation of pleadings; and motions and other court filings.
Ann is responsible for maintaining and managing paper and electronic case materials throughout all phases of probate and trust administration, including drafting and editing pleadings, preparing trust and estate accountings, and summarizing trustee/personal representative duties and responsibilities.
Ann's cheerful attitude and dedicated work ethic make an integral part of the DTC Advisors LLC team!